Welcome to our huge, open plan indoor playrooms. The free-flowing design enables children to come together to play and learn from one another.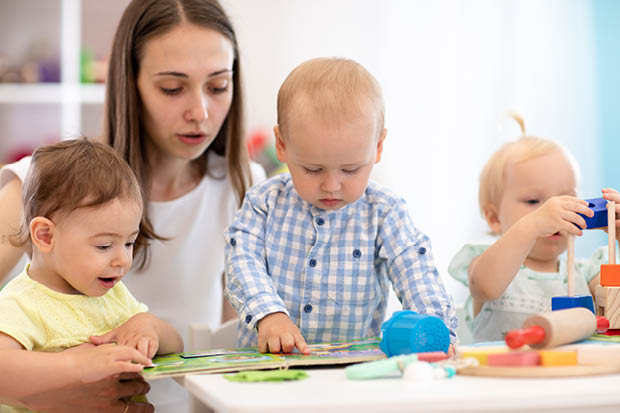 0-3 years playroom
Our dedicated nursery playroom for babies and toddlers has plenty of wide open space for little ones. Babies and 1–3-year-olds alike will find joy at Puddle Lane Nursery, from climbing and stretching at baby soft play to curiously exploring the sensory area. There are lots of fun activities, toys, and games in every corner along with quiet spaces and an eating area for a relaxed mealtime.
Our baby and toddler areas include:
Sensory Play | Enjoy an array of tactile, sensory toys and games.
Cosy Nooks | Children always have the choice to relax, snuggle down and enjoy a story or two
Soft Play | We encourage little ones to find their sense of adventure. Climb, stretch, and slide at baby soft play.
Playtime | Plenty of activities, toys, and games for children to learn through play naturally and happily. Build sandcastles or splash at water play.
Block Play | Discover block play and imaginatively experiment within the space to further develop hand-eye coordination and small motor skills.
3-5 years playroom
We have created a nursery 3–5-year-olds will look forward to attending. The vast playroom filled with activities, toys and games provides extensive opportunities for children to find their sense of adventure, make friends and learn through play, all day. Enjoy running free across our indoor games area, bringing imagination to life in our dress-up corner or finding a quiet spot to relax.
Activities for 3-5-year-olds include:
Creativity & Imagination | Spill, splatter and splash paint or turn a hand to clay-modelling.
Technology Space | Experiment by testing and trying new ideas.
Indoor Games Area | Get creative and run free with ball play and sports.
Soft Play | Slide down the shoots and crawl, stretch and climb across our adventurous soft play.
Block Play | Problem solve and enjoy developing mathematical skills through building structures from imagination or creating buildings or castles.
Step inside
Due to the vastness of our indoor setting, children have access to a range of complementary spaces. By offering plenty of activities to choose from, children have a varied daily routine, filled with choice, and can find a pastime which brings them joy. It is our intention to empower children to learn naturally through play.
Our interior
All design is intentional as we have strived to create an environment with beauty and harmony in mind. From the moment you step inside, the nature-inspired interiors install a sense of calm and feelings of serenity with splashes of joyful colour which brings the nursery to life. Children's artwork is hung proudly on the wall to showcase their creativity.
Furniture layout encourages open conversation, while quiet, peaceful spaces are always within reach.